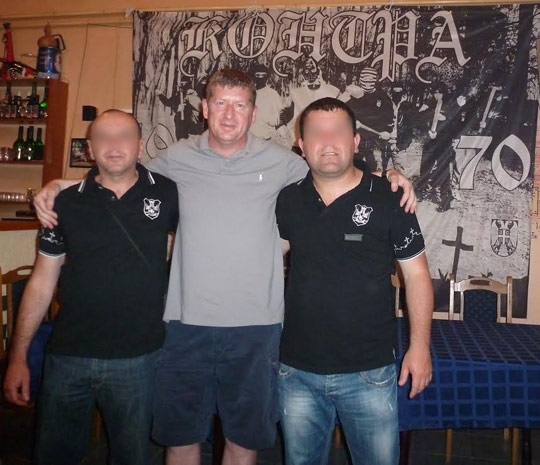 We talked with Shaun Duffy, author of book "Football is life". As "football tourist" he visited 162 different cities just to see football fans and feel their atmosphere.
> Hello, please introduce yourself?
My name is Shaun, I am 47 and I live in Haydock, a large village in Merseyside approx 12 miles from Anfield, one of the worlds most iconic football venues.
After seing Liverpool beat West Bromwich Albion 3-1 in my debut game at Anfield on Saturday 25 August 1979, I was hooked! In the years that followed, I entered into a subcultural phenomenon that was to dominate the news headlines almost every weekend for two decades. I followed Liverpool home, away and into Europe for many years and have made an abundance of lifelong friends, some of whom are so close to me that I consider them extended members of my family. Although Liverpool are my team, I live only 4 miles from Wigan, a small working class town in Lancashire and home to Wigan Athletic FC. Being football mad as a youngster, I also watched Wigan Athletic in the lower leagues, so it would be fair to say that Wigan are my adopted other team.
Three tragedies changed my perception of football.
1. Heysel
2. Hillsborough
3. The inception of the Premier League and the ills that go with it
Needless and tragic loss of life…Needless embourgoisement of our game…Needless geed…And needless exploitation of football supporters.
Once the modern football virus kicked in I reluctantly jumped off the Liverpool train and climbed aboard the grass roots Wigan Athletic tram! Although Liverpool will always be my team, I hated the changes in crowd dynamic in Premiership football and I hated the path down which my club, along with the other top flight teams, had chosen to travel. With a heavy heart, I made the executive decision to opt out and only follow Liverpool in European competition and in pre-season friendlies outside of the UK. Purely because of my love of travelling and to keep in touch with good friends. Wigan then became my new home, but imagine my frustration as they slowly but surely clambered up the leagues before perching themselves firmly in the higher echelons of English football. A football fairytale of epic proportion. Whilst the club, the town and my Wigan mates were ecstatic and I was really pleased for them, I was positively underwhelmed. All seated stadiums, reduced ticket allocation, inflated ticket prices and ridiculous kick off times just didn't do it for me at all.
> How did you decided to start be "football tourist"?
It was time for another executive decision. I restricted my Premiership football to only a handful of games a season at best and to be perfectly honest it was just a medium for socializing. I had said my goodbyes to football along time ago. My team will always be my team but I choose to support them at an arms length rather than on the terraces. There comes a point when you have to make a stand, and I have. At this point I had a 7 year old and a 2 year old on my hands and needed to fill a void. I started to coach kids football and I am now in my seventh year, with a league title under our belt and wait for it………U14s Premiership football! Along with junior soccer, I had steadily increased the amount of European travel I was undertaking. I, along with a select group of close friends set out to cover as many 'hot' rivalry games as possible. It was like an apprenticeship. We started with the classicos Barca v Real Madrid, Inter v AC, Lazio v Roma, Galatasaray v Fenerbahce etc and then progressed to the lesser established hotbeds of Sarajevo, Bucharest, Budapest, Saloniki and Chorzow etc before completing our apprenticeship in Buenos Aries for the Super Classico between Boca Juniors and River Plate.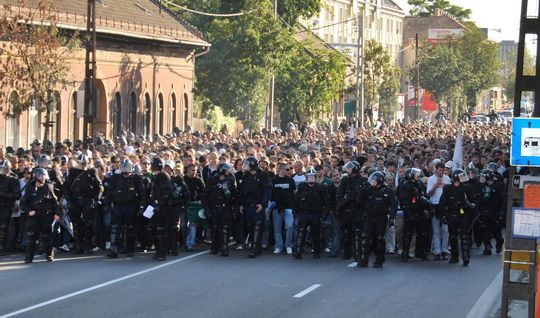 Ferencvaros lads
> How many countries have u visited just to watch football?
I have seen over 200 football matches outside the UK, taking in 162 cities in 39 different countries. Travelling can vary. Sometimes I go alone, sometimes with one other and sometimes a group of us. My first game outside England was Celtic v Rangers in 1984. My first game outside the UK was Liverpool v Juventus in the 1985 European Cup Final and my first rivalry match not involving a British team was Roma v Lazio in approx 1997. My last game outside the UK was Maribor v Wigan Athletic in December 2013. My last game outside the UK not involving a British team was Panathinaikos v PAOK in February 2014 and I will continue to watch football abroad for the foreseeable future.
> What your family and friends say on this?
My friends and family are cool with it. They know I love football but prefer it in its primitive form.
> You have traveled all over Europe, seen some very interesting matches and ultras groups. From those 200 matches, do you have favorite, most interesting?
Difficult question because every trip offers something different. My favorite match is probably the Belgrade derby. Belgrade is a great city, has great supporters and sells cheap beer. But I have to say the Sarajevo derby at Zeljeznicar was off the scale. I really enjoyed it, great old school supporters. The most disappointing game was probably Barcelona v Real Madrid. This is now just a tourist game, a true reflection of modern football's damage to fan culture. Great players but terrible atmosphere. Tourists don't have the passion of old school supporters. They go to games to be entertained rather than be part of the entertainment.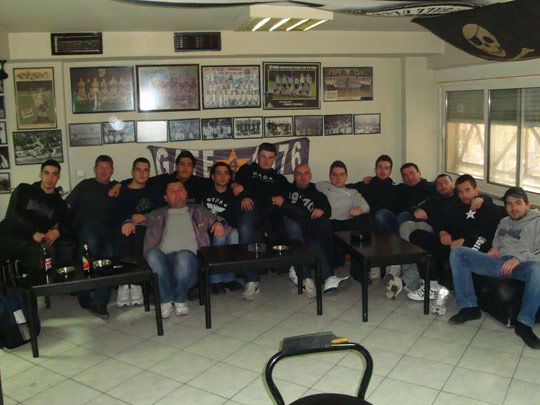 Grobari and Gate4 lads
> Have you ever been in danger on those trips?
Only once have I ever felt in real danger, Hajduk Split v Dinamo Zagreb at the Poljud. Three of us walked back to the centre after the game and got ambushed by around a dozen Hajduk carrying weapons. I really thought we were heading straight to hospital if not worse. There was no police about and we were stuck on a quiet street with nowhere to go. We stood our ground, explained that we were English and after that there was no problem. The Hajduk boys apologised and we walked back in to town shaken but unscathed. They apparently thought we were Dinamo lads walking back to a car.
> How do you connect with local lads?
I have made some lifelong friends, especially in Belgrade. All have been very welcoming and hospitable hosts. I have never had issues with anybody, but football is a universal language.
> Did u ever have problem on foreign stadium because you were not local?
Never. But we are always respectful and we don't consider ourselves tourists. We are proper old school football supporters looking to fill a void.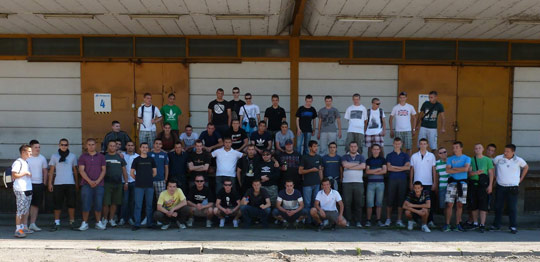 The Maniacs youth (Željezničar Sarajevo)
> Can you compare ultras scene on east and west of Europe?
The perception I have attained, rightly or wrongly, is that there is a growing nationalistic skinhead culture in Eastern Europe and much of the terrace ambience was initially inspired by the revered English fan scene of the 70s and 80s and old school Italian ultra mentality of the same era. (Oi) punk is the preffered music of choice in some places and skinhead music in others. I have also noticed small pockets of English inspired casuals keeping the faith, especially in Russia. The security forces appear to be off the scale brutal. Brutal in a way I have never experienced in Western Europe and believe me the police here do take liberties on a grand scale. But the Eastern European old bill take brutality and repression to another level. Brutal appears to be an acceptable practice. Eastern European Football's hardcore fans, and there are many of them, are 100% working class and I like that. Extreme fandom, although a touch diluted compared to days of old, is just about hanging on to its primitive status in Eastern Europe and fans are actively fighting the modern football virus together.
The Western Europe fan scene is showing signs of succumbing to the money men with perhaps the exception of the Italian ultra scene which has seen an unlikely welcome return to the good old days but with reduced attendances. The German ultras are hanging on in there but how long before the Arabs and oligarchs are allowed access to the potential riches of football in the Fatherland? Fortunately, the German game, much to the dismay of its custodians, is structured to combat such an unwelcome hostility and in the short term they appear to be safe for now. Fan groups, especially the ultras, are still strong and have no issue with setting aside rivalries in order to repel the modern football virus in unison. They are however slowly conceding ground. Kick off times have become a nightmare, the authorities are clamping down on pyro with repressive police tactics and there has been an atttempt to hike ticket prices for away supporters. The flame still burns for now but for how long I don't know.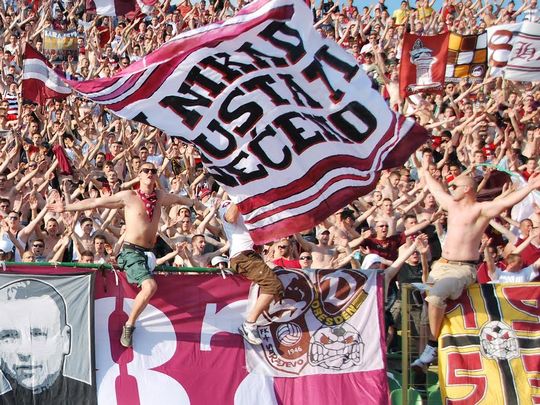 Horde Zla Sarajevo
> How do you see ultras scene in 5-10 years?
Ultras scene will never die, especially in Eastern Europes lower divisions, but repression and exaggerated punishment will get worse. Eastern Europe will never again compete for European titles, the money men have destroyed the game as we knew it. There are no level playing fields anymore. Barcelona, Real Madrid, Bayern Munich, PSG, Chelsea and Man City will contest the Champions League for the forseeable future and the Asian market will dictate scheduling of TV games. Greed is good and cash is king and its here to stay.
> How did u decided to write book about this?
I was probably just a frustrated journalist in a previous life! I enjoy traveling and I love football so why not? Extreme fandom attracts negative politically dictated media attention. By writing this book, it enabled me to vent and release my own frustrations by setting the record straight. It was also a big education for me.
source: ultras-tifo.net