Famous Russian hooligan "Killerem" from Spartak Moscow.
In cooperation with hooligans.cz we are happy to introduce an interview with one of the best Russian football hooligans from the years 2000-2010 and the first leader of Gladiator Firm 96, group to Spartak Moscow, which recently celebrated 17 years on the scene. This person made ​​a substantial contribution in Russia for fair play in arranged fights. More in the article
1) Hey! How old are you and how long have to attended matches of Spartak Moscow?
I am Vasiliy the "Killer". I'm 35. I started supporting Spartak Moscow when I was 5. In 1995 I started coming to the stadium and became part of the supporters' scene, also outside the stadium. Now, my two sons stand beside me at the matches – this makes me truly proud.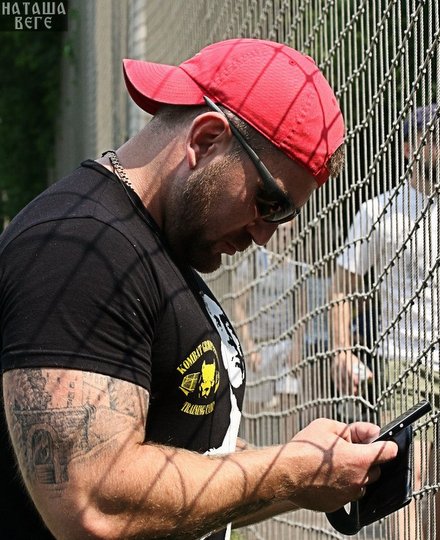 2) Can you introduce the Gladiators Firm 96? What are your greatest achievements?
The Gladiators appeared in 1996. They were the guys who did not want to be among the Flint's Crew, the first official hooligan group for Spartak supporters. The Flint's followed the "English" format, while the Gladiators wanted to mix the styles of Italy, the Balkans and Russia.
Gradually, the Gladiators developed their own unique Russian way. In the 90's Gladiators took part in nearly all the fights with the opponents of Spartak: CSKA, Dynamo, Zenith. In the beginning of the century the Gladiators experienced decline, but came back to the scene by 2004 / 2005 and remain among top hooligan Spartak supporters.
I joined the Gladiators in 1998. There have been many fights since then. The most significant fights for me took place in Moscow: Sokolniki-1998 (till now, considered the biggest fight in Russia, with over 1000 people taking part from each side). "Kitai-gorod-2001", "The year 1905 street-2006", "Severyanin-2007". Those were the great fights against CSKA: draw / win / loss / loss.
In 2004 we had a fight with Dynamo hooligans on "Prospect Mira" [ironically translates as the "Peace street"]. It was probably the cruelest fight of all which brought to its participants both health problems and issues with the police. There was another fight at Volzhskaya in 2007.
In 2005, in St. Petersburg we had a "meeting" with Zenit supporters at "Prospect Bolshevikov". We won – and the Gladiators put a lot of effort into this victory. There were loads more local and massive fights, but I name the ones that were important to me and were the best ones.
For more history and ideology of the Gladiators, go to www.gf96.com. Starting from 2010, the football supporting culture in Russia significantly changed – we entered a phase of forest fights – Polish format. This is like some kind of sport, and it's very popular. So popular that only the best Polish firms can compete with the top Russian ones.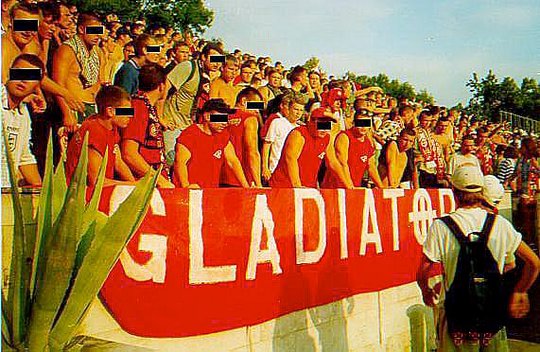 3) Who are you friends with? Do you maintain contacts with Lech Poznan?
Some guys maintain personal contact with Lech Poznan, nothing official. They are very strong guys, top hooligans in Europe.
Officially the Gladiators are the "brothers" of the Ultraboys (Red Star Belgrade,Serbia). Historically, Russia and Serbia are very close to each other. We have one religion, similarity in culture and people's national identity. This autumn, we celebrate 9th start of our relationship. The result of our special relationship is the friendship between Spartak and Red Star. At our stadium grand opening, our club's President invited our Serbian friends to play. It was a big honor for all of us.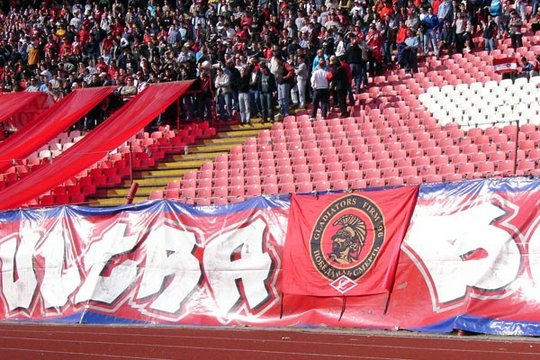 (Gladiator flag on match in Serbia)
4) How do you stand in comparison with rivals such as CSKA, Dynamo or Zenith?
The Gladiators are among Top 10 in Russia and To p3 hooligan firm of Spartak.
5) What is your view on the situation in Ukraine?
We have civil war in Ukraine – and this is a tragedy. I support Novorussiya (South East of Ukraine) which fights against Ukrainian military forces. For you to understand the situation better, here are the examples: Serbians cannot support Croatians or Albanians in any conflicts against the Serbs (this is not possible), true Polish people will never forget the massacre in Volyn done by the Ukrainians (and will never call them brothers). Same for me – I am fully for the Russians. They are the heroes fighting for their land, their national identity. Talking about the current situation on a broader scale – Europe is trying to fight Russia with sanctions, while it is ordinary people who take the brunt – in Poland, Czech Republic, France etc. It is strange to see accusations of Russia getting the Malaysian Boeing down, while the official results have not been announced yet, have they?
Clearly, Europe or the States are not interested in learning the truth, all they need is the victory in "informational" war. Strangely, coming from a country with allegedly tough regime, I can read and watch Russian, Ukrainian, European or American channels or newspapers, while there are no alternative sources of information in Europe. This leads to you, Europeans, discussing a hundred people who died in Kiev, while there are thousands victims in Donbass. By the way, no Russian channels are shown in Ukraine. And frankly, there is no freedom of voice or democratic values declared by the West. It's just about one oligarch clique fighting against another one.
The current group took power in the bloody way and is leading country into crisis, chaos, civil war and dependence on the West. This is what happens in Ukraine. Novorossiya's flags are not separatists' flags.
However, so far only Zenith fan-group showed their official support for Novorossiya, the rest are either silent or stated their neutrality. The same position was voiced by Fratria (Ultras group of Spartak) – movement uniting a vast number of hooligans and ultras. Based on their decision, in the Fratria fan zone there can be no Novorossiya's flags or anything supporting Ukraine. This happened after Ivan Bogdanov from Serbia displayed the Donetsk Republic flag during the match that was held at the stadium grand opening here in Moscow.
My opinion is that showing neutrality now is like showing your back to the Russian people in Donbass. Why are some Russians so reluctant to support Novorossiya? Because it is supported by Putin. We have this paradox situation: If Putin says "yes", you have to say "no", just to contradict him. What if he says the right things? Do you have to say the wrong ones just to follow this logic? Putin is a politician, and today he supports Novorossia and tomorrow he might change his mind.
What remains stable is the support we ought to give as a country to the Russian people, independent from the situation. Protection of the Russian people is the main task of Russia.
Imagine: just some hundreds kilometers away from you, in the 21 st century, there are people who are shooting, robbing, killing and raping! And this is accepted by the EU! I believe that one day you will learn the tough truth about what is happening. In both armies, there are some European representatives, fighting for money, truth or beliefs. Who will be the winner? Of course, the Russians – this was always the way. However, on the global scale there will be no winners. Coming back to Novorossiya's flags on the tribunes of Spartak stadium – yes, they are there and there they will be. Not in Fratria's sector, but there is more to Spartak fans than Fratria. Hopefully, in the nearest future things will change, and we will see a gigantic banner in the Fratria sector, devoted to Igor Strelkov, the great commander of home guards.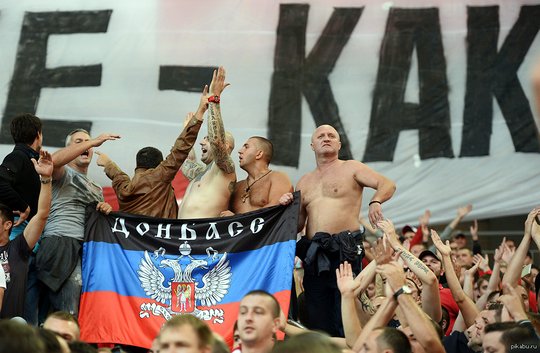 (Ivan Bogdanov in Moscow for the opening match Spartak vs Red Star)
6) Spartak is followed by many good bands, is there any rivalry between you and other groups?
At present, Spartak has two powerful hooligan groups which are competing for the first position in the red-and-white movement. These are the "School" and the "Union". The Gladiators are not as vast in size and therefore occupy the third place of this informal rating.
7) What is your view on the hooligan scene in Europe? Who is a good opponent for you?
I personally have great respect for movements which have more depth in them, on top of the support of their favorite club or city. As long as they stand for their country, historical and moral values, they have my respect, and I don't give a sh*t as to how good their performance is on the stadium.
8) Was the movie "Okolofutbalu" inspired by the real events? Was it favored by the Russian public? Did it bring any income? Will there be a sequel?
As a viewer, I liked the film–it was not top of the cash-box, but overall it was not bad. There are some real events from the Russian football scene, some were made too soppy (to be liked by the girls). Some episodes were filmed with real people who originally took part in the events. I remember there was an episode when the red-and-white team made an ambush for Dynamo Moscow top group. One of the main characters in the film uses my words from a real situation. Both in reality and in the film, he caught an opponents' scout before the fight and told him: "Now, you will attack them with us". That was a joint action of the Gladiators and the Flints Crew. In reality, the fight did not take place, as one of the Gladiators got out too early and shouted "Red and white!". After these words, most of the top Dynamo guys (apart from two), ran away.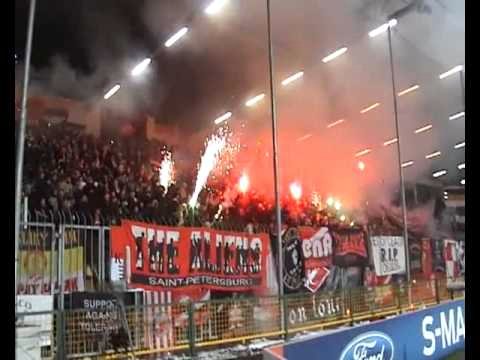 9) Have you ever been to the Czech Republic for football (hoolgan.cz is from Czech Republic)? What are your memories?
I have not been to the Czech Republic. But I happened to be in Slovakia, in Zilina, where Spartak played the local team. First I came to Bratislava, it has an old center which is typical of the small European cities. Like in many other cities, the area around railway station demands attention, I saw Soviet architecture, gypsies, dirt and greyness. I much more liked Zilina, as it was small and quiet. I can only imagine the reaction of the locals when we entered their world for 2 days! In Zilina, we arranged for a special meeting to exchange opinions with the local hooligan group. They had no chance against us… I saw a lot of Europeans traveling both for football and on private matters. But my most favorite route is Moscow–Belgrade. These two cities are carved in my heart forever!!!